My wife, Cathy, loves crab boils. For those who don't know what that is, (and I was one of them up till two years ago,) a crab boil is crab or other seafood boiled and served in bags. Basically, load a pound of shellfish of choice in a big plastic bag, add a sauce of choice, and boil. Then open said bag at the table and dig in.
Two years ago, Cathy was in Northern California on a special work project. During my visit one weekend, she took me to a local crab boil joint near her apartment. I was not brave, so I ordered some rice dish and some sausage and let her make a mess of her meal. Fast forward to recently, when we visited a local place called, "Crab & Spice". She had been craving it for quite a while and this date night seemed as good as any to go for it.
Now, let me clarify that I love seafood, but I hate the effort. I usually only tackle seafood that is already exhumed from its skeletal surroundings. Crab out of the shell, shrimp peeled, deveined and tailless, lobster, mussels, oysters (cooked, please), as long as someone's already done the dirty work, I'm there. It's a small part squeamishness and a large part I have no idea what's edible.
So on this night, I was a bit nervous looking at the limited menu and seeing little in the way of safe bets. I didn't trust myself to handle the stuff, but I did trust my wife, so I decided to just go for it. I knew she had the experience to teach me what I needed to know and I'm reaching that age where it's getting easier and easier to suppress my reluctance and cut loose.
We went on a weeknight. The place is simple, with picnic-style tables, a chalkboard menu with the market prices listed to supplement the printed menus, and paper towel rolls standing by. One side of the menu is the limited options and the other is the drink list. Their offerings included shrimp, crab, mussels, crawfish, and lobster. We ordered the shellfish medley to share, springing for the peeled and deveined shrimp, mussels, and snow crab legs. Crab & Spice has a signature Ultimate sauce, which is just a blend of the their garlic butter, lemon pepper, and simply Cajun sauces. We went for the mild version of the Ultimate on recommendation of our server.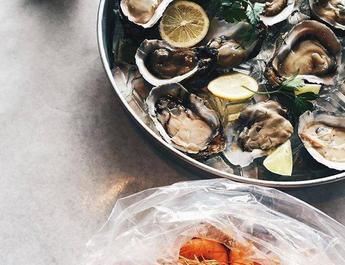 Being only slightly braver than usual, I added a side of kielbasa sausage in case I wasn't up to all the stuff in the bag. We got a side of sweet potato fries, steamed rice, and I ordered a cup of lobster bisque. The bag came out big and steaming, with the bottom full of sauce. Cathy, bless her heart, grabbed the crackers and went to town on the crab legs, offering me bite-sized portions of deliciously tender crab as she extracted them from the shells. I found the shrimp easily consumed. The mussels were all in shell, but easier to extract than I'd expected. The sauce was complex without any one flavor overpowering, although the garlic may have stood out the most. The soup was good, and made a good dip for the fries. The restaurant offers a powdered sugar for the fries, but we passed. After we'd finished every last bit of seafood, we spooned some sauce over the rice. That combination was almost too rich, something we hadn't noticed with the seafood.
All in all, it was well done and delicious. I left very satisfied, not only with the meal, but with my willingness to step out a bit from my comfort zone. Thankfully, I was rewarded for it. The bill came out to around $50 dollars, including the two soft drinks. It's not something we'd do often, but I do look forward to doing it again soon, and for those who love a good crab boil, I highly recommend the place. Enjoy!