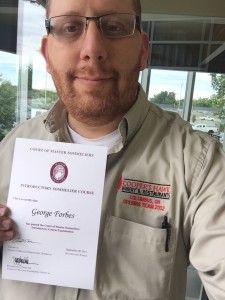 When I first started working at Cooper's Hawk, they had a training program that included an all day course conducted by Master Sommelier Ron Edwards. Ron is very passionate about service and wine and a great example of what the Master Sommelier program is all about. I took his course twice, the second time unpaid, and would have taken it again if the program hadn't been discontinued.
Since then, I've been preparing for Level 1 of the MS program. It is a two day intensive overview course on the wine world and hands-on training in the Court's Deductive Tasting Method (DTM). The class is conducted by the Americas division of the Court of Master Sommeliers. As a result the class  is offered throughout North and South America each year, with 1-2 chances to take it here in Chicago. This year, there was only 1 in February, and it filled up before I could register. So I finally settled on taking the course in Louisville, Kentucky on 9/27-28. (Free lodging at a friend's house was the key factor for the road trip.)
The world of wine discussions were broad overviews of the world's wine regions, which had been covered in greater depth in the book I'd read to prepare, Karen McNeill's Wine Bible (An updated edition releases this month!) The part of class each day that really opened my eyes was the blind tastings with the DTM. Here's where I was both surprised and humbled, surprised by what I did know, and humbled by what I didn't. Cooper's Hawk teaches the DTM to a degree, but the view of wine I've acquired there is incredibly narrow and logically focused on their product line.
So, after knowing about 50% of the test question answers, and successfully guessing enough to score at least 60% to pass (they don't give out test results), I got my pin and certificate! The Court recommends taking at least a year to prepare for the next level, which would see me become a Certified Sommelier. For that to happen, I'd have to find ways to explore a lot of wine outside of my job, and I'd have to consider possibly finding a new job that would allow me a broader spectrum of wines to sell and serve, possibly a fine dining experience so I can learn and practice serving techniques necessary for the next level. I'll also have to take advantage of my free 1-year membership to the Guild of Sommeliers website and all the resources available there.
My biggest takeaway was that Master Sommeliers are passionate about humility and service. The program is meant to be open and generous. I left the classroom feeling a strong sense of accomplishment and the drive to raise my own level of service at work. Whatever the future holds, I know I want to continue my studies. Whether or not I go for the Level 2:Certified Sommelier remains to be seen. Either way, I'm already a better student of wine than ever before. Enjoy!