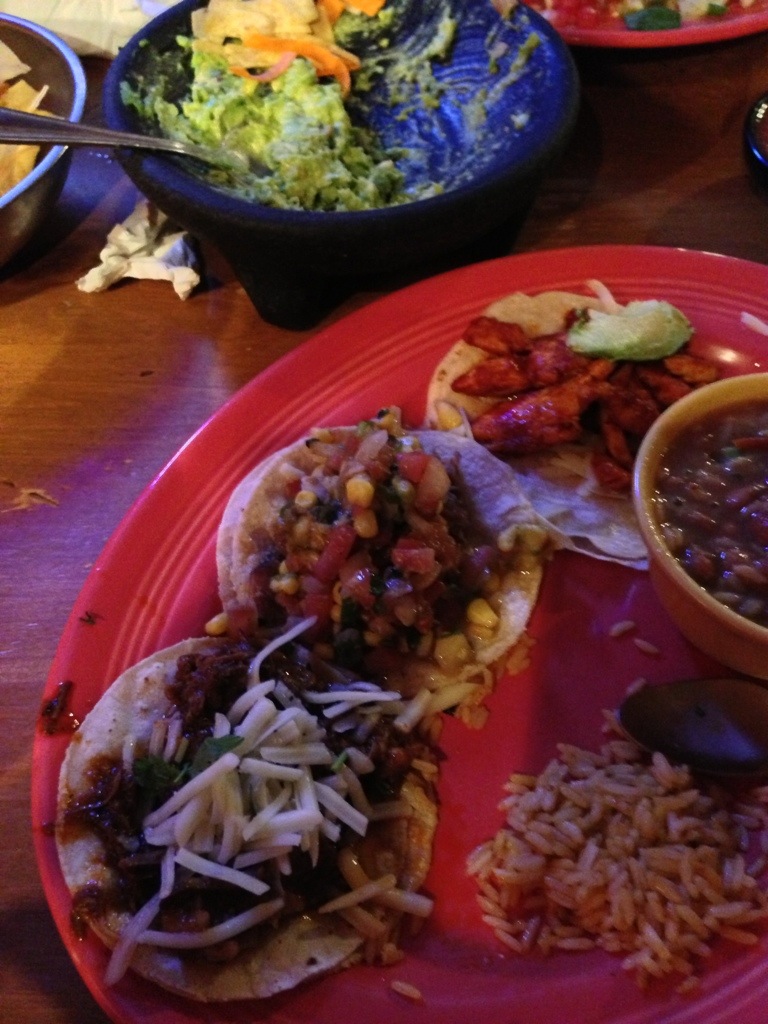 Finally talked the wife into Cozymel's for dinner tonight. Overall, it was a really enjoyable experience. Here are the specifics.
Server needs more practice to read his guests better, but I loved the effort. Confident suggestive selling is a good start, yet instead of asking if a signature dish was satisfactory, he should have gone with a more confident adjective to maintain the feeling that he believed in the product.
The chips and salsa were par, but the tableside guacamole was great, especially because we were able to choose what went into the avocados as it was prepared, literally next to the table. Cathy had a good salad. My tacos combo had average rice and decent beans but three different awesome tacos, each better than the last.
First up was a guajillo chicken, sauced with a hint of jerk to it, and offset by a slice of creamy avocado. The second was a hearty brisket with a corn relish. The best was the carnitas topped with avocado relish, pico
de gallo, and cheese. My only complaint was that, in getting the combo, none of the tacos were accompanied by the described signature sauce in the menu. Not sure if that was an oversight on their part or intentional when ordering a combo, but I only became aware of it when reviewing the menu again for this post.
So overall, kitschy atmosphere, decent food, a fair price, it's a place I'd go back and try again. Although, it's rare for me to not give any place a full at bat, so if I'm going back it definitely didn't completely suck. Enjoy!