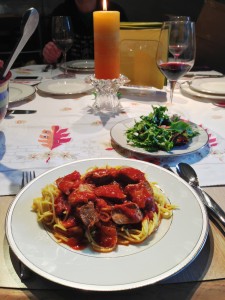 Cathy and I hosted Jamie and Lindsey Bougher tonight for dinner. She commented on a recent post that she wanted to be next to enjoy one of my efforts in the kitchen, and according to her and her husband, I did not disappoint.
I modified a recipe for Italian-style country ribs to give it more substance, by adding grilled bell peppers and onions, and we served it over corn/quinoa pasta, with a mixed green side salad tossed in pear-lime vinaigrette. Appetizers were gourmet cheeses and chips with homemade guacamole.
It was a bit time-consuming but rewarding to hand dice and chop everything. (I just need to learn how to dice jalapeño so that my finger tips don't tingle for a couple hours afterwards.) I also did a better job of planning than usual, anticipating shared ingredients between appetizer, salad and dinner, to decrease the chance of waste later on. It was always challenging to cook for one when I was single. Now, I have the benefit of cooking for two, and that has made purchasing and using fresh ingredients more enjoyable and less wasteful than in the past.
Obviously, I still have plenty to learn. I'm getting better with each new endeavor, though, so I look forward to the next time I can host friends for dinner. So who's next? Besides having more mouths to feed to rate my efforts, having guests over forces me to keep the apartment cleaner than normal. So drop me a line and give me a reason for one of my next "Kitchen Feats." Enjoy!